In our previous post we saw how VME systems have not outlived their usefulness for MIL-STD 1553 and ARINC 429 test and simulation applications. However, their long-term future will continue to be threatened by end-of-life (EOL) of crucial subsystems and components such as the TSI148 VME-to-PCI bridge chip that's been at the heart of VME adapter (carrier) boards. Some VME suppliers have left it up to their customers to address these EOL problems on their own. But for end users, dealing with VME platform issues is at best an engineering distraction. At worst, it requires them to decommission perfectly adequate VME systems and commit to the enormous expense of purchasing more up-to-date systems and porting legacy application programs to them.
AIT's Long Term Commitment to VME
We've seen how AIT solved the adapter board EOL problem by eliminating the obsolete TSI148. We redesigned our VME 1553 and 429 adapter boards around a Xilinx FPGA, including developing its own proprietary firmware. But redesigning a board is just one part of AIT's long-term commitment to VME.
Let's look at how AIT is meeting these commitments in greater detail. AIT's strategic long-term commitment to VME encompasses four distinct avenues.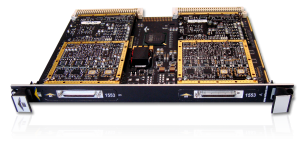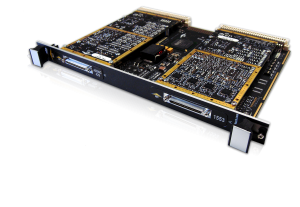 AIT's MIL-STD-1553 & ARINC 429 VME Modules
Avenue 1: The physical systems themselves.
AIT will continue to provide compatible hardware in terms of form, fit, and function for VME systems used in labs and in extended temperature applications.
Examples of how AIT meets demanding VME requirements:
AIT's MIL-STD 1553 and ARINC 429 hardware modules are supported by AIT's new FPGA-based PMC-to-VME adapters.
AIT's MIL-STD-1553 Instrument can provide up to 8 channels in a single VME (6U) slot. BC, RT, BM applications are fully supported.
AIT's ARINC 429 Instrument can provide up to 64 channels in a single VME (6U) slot with all channels fully software programmable as Tx orRx Channels
An additional benefit is reduced hardware lead times. For example, the TSI148 chip manufacturer produced the chip in low volumes that resulted in low yields and long lead times, stretching out adapter board delivery times. The FPGA solution has resulted in VME-1553 and VME-429 adapters available at normal 30- to 60-day lead times.
Avenue 2: Addressing EOL issues as they arise
Solving the adapter board problem is doubtless only the first of several EOL cases that are likely to arise for VME systems as they continue to age. As we did with the TSI148 EOL issue, we will employ newer technologies such as FPGAs to ensure we exactly replicate (or even improve) existing VME functionality.
In addition, as we did for the new FPGA used on the 1553 and 429 adapter boards, AIT will develop IP such as FPGA firmware ourselves to ensure the IP is owned by AIT/Teradyne.
Avenue 3: Ongoing software development
AIT's continuous investment in software improvements that maximize functionality means existing instruments—including VME systems—may be upgraded to include the latest test and simulation routines. For example, MIL-STD-1553 VME instruments are supported by the AIT MIL-STD-1553 Software Development Kit, which provides C/C++ APIs for VME will be updated, as needed in the future to support , C# and VB.NET APIs. Additionally, drivers for Windows, Linux, and other operating systems will be supported on request and has VME controller CPU's demand.
AIT also amply demonstrates its long-term software commitment by continuing to provide legacy OS software such as VxWorks v5.x and 6.x. as well as with new VxWorks and VxBus driver support.
Avenue 4: A Multi-Decade Support Commitment.
Backed by Teradyne's resources as a robust leader in test instrumentation, AIT is well-positioned to execute its 20+ year support promise.
This allows us to take the long view in terms of ingoing product and software development. For example, we've replaced register/memory-based APIs with a standard C library of functions, allowing creation of software that's independent of hardware.
Support extends beyond the product to fulfilling specific customer support requirements such as porting applications to APIs.
These are four good reasons why customers come to AIT for the long run. Our innovative FPGA-based adapter has resulted in several long term (10+ year) orders to deliver hundreds if VME-1553 and VME-429 modules in both the DOD and the avionics sectors.